Are you prepared for a disaster?
Oftentimes in the news we hear of natural disasters where people are being evacuated. From tornadoes to flash floods to wild fires, depending on where you live, disasters can happen and catch you off guard unless you are prepared.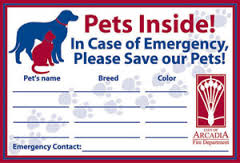 Not only is it important to have a plan of action for the humans in your family, but what about the family pets?
Even though more agencies are considering the family pet, make sure you are prepared first. That goes for every day emergencies to natural disasters.
According to the The Humane Society of the United States (HSUS), there are a number of things you can do to keep you and your pet at the ready:
Identification goes a long way: Pet IDs for all your pets are essential every day and in case of emergency. Ensure your family pet wears a collar with ID tags as you never know what can happen. From your pet escaping out the front door to an emergency, things can happen, so have tags with current information on your pet at all times. Have your pets microchipped. It offers an added plus. Again, ensure you register the microchip with your current information. "Put your cell phone number on your pet's tag.It may also be a good idea to include the phone number of a friend or relative outside your immediate area—in case you have had to evacuate," according to the HSUS.
Prepare an emergency kit. From water, food, medications, litter box and leashes to harnesses and carriers, get it together and have it easily available.
Do you have a place to stay with your pets in an emergency? Start researching places you can take your pet if it's necessary. The HSUS recommends calling your local office of emergency management. Also check hotels and motels and their policies, friends, family, vets and shelters.
Make arrangements with a trusted friend or family member in case you are away during an emergency so that they can take your pets until you meet up.
If you have to evacuate, take your pets! According to the HSUS, "If it isn't safe for you, it isn't safe for your pets."
For those who must stay home during an emergency, find the safest place to wait it out with your pets.
Keep pets safe after disaster. According to the HSUS, "Your home may be a very different place after the emergency is over, and it may be hard for your pets to adjust." Make sure your pet is safe with dogs on a leash and your cats in cat carriers and within your sight. Don't let pets roam as it could be very dangerous.
The old adage, "Better safe than sorry" rings true when it involves pets and disaster. You'll feel much better knowing you are prepared and that your beloved furry family members are protected.