Our Facility
Designed with great thought and care, our 16,500 square foot pet boarding facility is filled with special touches that assure your pet's comfort and safety while staying with us.
---
Our boarding facility is air-conditioned and heated. We do not use evaporative "swamp" coolers which do not produce the same level of home-like comfort to which your pet is accustomed.
Skylights are located throughout the pet resort, bathing animal areas in natural light.
---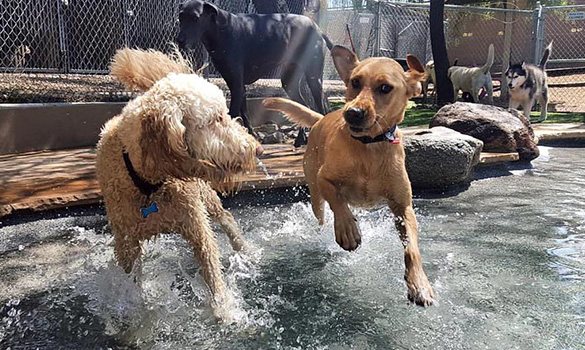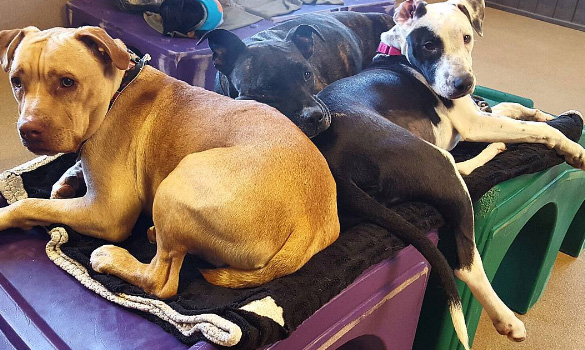 ---
Water-loving dogs will think our canine Splash & Play Water Park is the perfect activity for a hot summer day at the resort! Designed just for dogs, our canine water park features water-side decks, a waterfall and a maximum 18" depth. Only supervised play is allowed at the water park, where both large and small dogs will enjoy the chance to cool off in the company of our trained resort staff.
Drive up under our covered entryway when dropping off or picking up your pet, to assure your pet's paws aren't burned on the hot Arizona pavement. Once outside temperatures rise above 85 degrees, tender paws can become scorched.
While spending time in our exercise yards, our 7 foot high walls keep even the largest dogs safely enclosed. And, inside the pet resort you'll find several layers of interior doors, assuring that our boarding facility is more secure than most private homes.
In addition to 24-hour staffing, our boarding facility also features fire sprinklers, fire alarms, and security monitoring devices, and our systems are monitored 24 hours a day.
Our pet resort is divided into seven individual dog pavilions, reducing the noise level and ensuring that all of our canine guests remain calm and relaxed.
Our animal guests enjoy the sound of calming music, including smooth jazz and soft contemporary rhythms, during their stay.