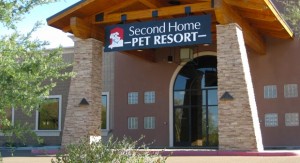 Our beautiful 16,500 square foot pet resort is full of your furry loved ones getting pampered while you are on vacation. Second Home Pet Resort opened September 2008, offering dog and cat boarding, doggie day care, dog and cat grooming and dog training. We are open 7 days a week, and staffed 24-hours a day, 365 days a year. Our facility has 14 air conditioning units, skylights all around offering natural sunlight, and fire sprinklers located around the entire building.
Second Home Pet Resort offers daily activities for your pet to keep them in the same routine they are used to at home. Cuddle sessions are great for dogs who are couch potatoes and love to have their belly rubbed, play sessions are for the energetic pups who loves to play fetch, and our 18″ deep water park for the swimmers. Doggie day care is also offered to boarding guests as well to keep your dog active and social.
Our blog will include helpful tips and articles for you and your pet. We hope you enjoy our posts and get great information out of them.