Keep Your Cat Healthy During National Cat Health Month in February and Beyond
Did you know that February is National Cat Health Month? It's important to keep your cat healthy every month and even every day, but February celebrates the cat and how you can keep your feline friend at the top of his or her healthy game.
Americans love their cats, as there are about 74.1 million pet cats as opposed to 70 million pet dogs in the U.S. according to the American Veterinary Medical Association's (AVMA) U.S. Pet Ownership & Demographics Sourcebook (2012). Additionally, in 2011, six of 10 pet owners viewed their dogs or cats as part of the family.
Even with the amount of love shown to cats, veterinary visits for felines were down as compared to those for dogs. The AVMA's U.S. Pet Ownership Statistics showed that dogs saw a vet 2.6 times a year per household as opposed to 1.6 times for cats. Owners spent $378 a year per household at the vet for their canines and only $191 for felines.
So where is the love for cats? Here are some interesting statistics about shelter dogs and cats from the ASPCA:
· "About 649,000 animals who enter shelters as strays are returned to their owners. Of those, 542,000 are dogs and only 100,000 are cats.
· Of the dogs entering shelters, approximately 35% are adopted, 31% are euthanized and 26% of dogs who came in as strays are returned to their owner.
· Of the cats entering shelters, approximately 37% are adopted, 41% are euthanized, and less than 5% of cats who came in as strays are returned to their owners."
From "The Importance of Taking Your Cat to The Vet," the following are some statistics provided by The American Association of Feline Practitioners (AAFP):If we have so much love for our cats, maybe it's time
to ensure they get the health care they need, and there's no better time to start than in February!
· "Almost twice as many cats than dogs never visit the veterinarian.
· Of the cats that do visit the veterinarian, they average 26% fewer visits than dogs.

· 41% of cat owners visit the veterinarian only for vaccinations.
· 39% of cat owners say they would only take their cat to the veterinarian if the cat was sick.
· 60% of cat owners report that their cat hates going to the veterinarian.
· 38% of cat owners report that they get stressed just thinking about bringing their cat to the vet."
Many pet parents assume a vet visit is unnecessary if their cat is not sick. However, because cats have been known to hide sickness and pain, the best way to prevent illness is to ensure your cat receives a checkup. Why take a chance when you really don't know? For cats and cat parents who get stressed and for those cats who hate the vet, try researching feline-only vet practices that specialize in just cats. It can help make things run more smoothly.
It's just not a good idea to avoid the vet and compromise your cat's health. There is also cost, which is another hindrance for some. Remember though that a checkup now can save a lot of cost and heartache down the road. Don't skimp on your cat's health. Keep up with your cat by keeping up with his or her good health. You'll be happy you did.
Keep Your Pet's Pearly Whites Clean and Healthy to Ensure Overall Good Health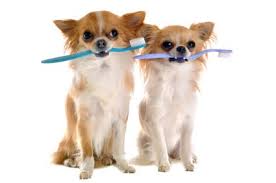 Just as with people, good dental health signifies all-around good health in our pets. A sign of bad teeth, bad gums or even bad breath in our pets can actually point to something more serious.
Along with general vet wellness checkups for your family dogs and cats, make sure your veterinarian checks your pet's teeth. Your vet can detect if your pet has any dental issues, including periodontal disease, which is prevalent in many dogs and cats.
To ensure you remember the importance of your pet's dental health, the American Veterinary Medical Association (AVMA) "sponsors National Pet Dental Health Month every February."
For starters, although we brush our teeth at least twice a day, most people neglect their dog's or cat's teeth. You can keep up with the dental health of your pets and start with brushing their teeth on a daily basis. Speak to your vet about a brushing plan that you can begin at home. Although it may not be easy to do or your pet might not take to it at first, check Dr. Sheldon Rubin's video with tips on brushing your pet's teeth and information about periodontal disease. In another video, Dr. Cindy Charlier discusses the disease and prevention.
Heed the following tips and advice for your pet's best dental health:
· As with humans, a lack of dental care can cause disease that affects other organs, including the heart.
· Proper dental health can prevent other serious health issues down the line
· In order for your pet's adult teeth to come in, all the baby teeth have to come out, which doesn't always happen on its own. Consult your vet.
· Your pet may need a professional cleaning due to plaque buildup, so it's important to keep up with dental and wellness checkups with your vet.
· Even though your dog or cat may seem fine, there could be a dental issue of which you are not aware, yet another good reason for vet checkups.
Stay on top of your pet's dental hygiene to keep good pet health all around, not to mention, he or she may have better breath. That's a win-win for everyone!
Ensure Your Dogs and Cats Get Spayed/Neutered to "Fix" the Problem Before It Starts
February is known for so many things, especially Valentine's Day, a month to shower loved ones with cards, kisses, flowers and more. It's also Spay/Neuter Awareness Month and the celebration of World Spay Day, held the last Tuesday of every February. It's also a great time to show the love for your pets by ensuring they are spayed or neutered.
Why February? There's a great reason behind the timing. "The purpose is to encourage people to have their pets sterilized before the spring and summer months when there is a rampant overproduction of puppies and kittens," according to February is
Spay/Neuter Awareness Month at The Humane Society of Greenwood website. It is during those months that animal shelters across the country "experience an unmanageable increase in animal intake."
When you spay or neuter your dog or cat, you help to prevent the overpopulation of pets in shelters and on the streets, in addition to helping the overall health of your pet. Homeless animals are in every town, city and state across the nation. The numbers are staggering.
· For females there is less risk of pyometra (reproductive tract infection) and mammary tumors (breast cancer).According to "Why You Should Spay/Neuter Your Pet" at the Humane Society of the United States website, "In the U.S., there are an estimated 6-8 million homeless animals entering animal shelters every year. Barely half of these animals are adopted. Tragically, the rest are euthanized. These are healthy, sweet pets who would have made great companions." The article says there are "more than 2.7 million healthy, adoptable cats and dogs" euthanized every year. So accordingly, "Spay/neuter is the only permanent, 100 percent effective method of birth control for dogs and cats. There are also numerous health and behavioral benefits to spay/neuter as per "Spay/Neuter Awareness Month: A Veterinarian's Perspective" at Petful.com:
· For males, the risk is reduced for testicular tumors, prostrate and associated urinary difficulties.
· Cats will be less exposed to feline leukemia and the feline AIDs virus. "They will fight less and will not be mating, which means they will be avoiding the most common ways these feline diseases are spread."
· Males are less inclined to roam, be aggressive or mark.
· Females are less inclined to fight.
By investing in spay/neuter for your pet, including your pet rabbits, you help prevent health problems, help prevent pet overpopulation, and prevent potential high vet bills due to problems that could arise in the future.
If you are concerned about the cost of spay/neuter, there are low-cost facilities throughout the country. Find a program near you.
Comments are closed.