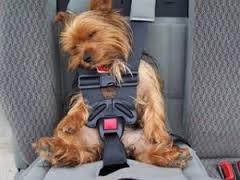 Anyone up for a road trip? Your bags are packed and you are most definitely ready to go, as the song "Leaving on a Jet Plane" said. With suitcase in hand and beloved pet travel companion at your side, the open road awaits. Do you have everything you need for your pet?
Food and bowl. Check
Water and bowl. Check
Check
Check
Medicine and first aid kit. Check
ID tags. Check
It's time to hit the road, Jack.
But wait. Aren't you forgetting something? Sure when you get in the driver's seat, you don't start your car until you have your seat belt fastened. What about your pet? If by some horrible twist of fate you got into an accident and your pet was not safely secured in the car, he or she easily could be in great danger.
What can you do to ensure your pet is safely secure in your vehicle for the trip? There's so many ways to prepare your pet for that ride in the car, and safety is among many:
First things first: Your dog should not ride shotgun. Keep your beloved pet in the back seat. Just as airbags are dangerous for children, they pose great danger for pets. And never keep your pet in your lap. Not only is it dangerous for you and your pet, you can get pulled over by the police.
Never allow your pet to run loose inside your vehicle. It's dangerous for your pet, and it's also a huge distraction for you, which can lead to vehicular accidents.
Seatbelts have been known to save lives, but when it comes to safety harnesses for dogs, some are better than others. They've even done tests. Check the Center for Pet Safety report and the video using crash test dogs so you can make an informed and important decision.
A barrier fence can prevent your pet from flying into the front seat if you stop short. Couple that with a recommended safety harness for extra security.
Don't allow your dog to be loose and hang out an open window. Flying debris can cause eye injuries, and outside distractions can cause your dog to take a leap out the window resulting in serious injury or death.
Two for the price of one: A car seat and carrier combo attaches to a vehicle's seat belt. It also doubles as a carrier for your pet when you're out of the vehicle.
Use your pet's very own crate and make sure the crate is secured in the vehicle. Crates can also provide your pet a sense of security.
Your pet should always wear an ID tag even while traveling. Also keep a pet emergency kit handy in the car in case of injury to you or your pet.
It is not recommended, but if you must place your pet in the bed of a pickup truck, it is imperative to make sure you use a crate that is securely tethered to the bed of the vehicle. Riding in the back of a pickup is extremely dangerous. One short stop and your pet can go flying out of the bed and into traffic, which can be fatal for your furry family member as well as cause accidents.
Remember, if you stop for potty breaks for your dog or you have reached your destination, be careful when getting out of your vehicle in areas that are unfamiliar. Make sure your pets are either in a crate or carrier. If your dog is on a leash, hold tight. Pets have been known to bolt in strange surroundings.
Keep your pets safe on all your journeys. Your day trips and vacations will be much more enjoyable for all.