We all know that exercise is not just good for the body but the mind as well. It keeps us healthy and makes us feel good, if not during then afterward. Sometimes getting up off the couch to exercise can seem like a chore. However, an exercise partner can help with motivation. You might not know it, but the best partner can be your own dog.
Most dogs love at least a good walk, which can be great in and of itself. But many dogs can be up for much more than that, and they're always eager to get outdoors and exercise. "That energy can be contagious: research from Michigan State University found that canine owners were 34% more likely to get the recommended 150 minutes of exercise a week than folks who didn't have a dog," according to the article, "13 Fun Ways to Work Out With Your Dog" at Health.com.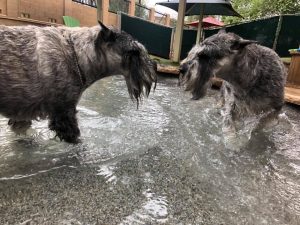 Get Moving
There are so many more exercise activities for you and your dog. According to the article, some include:
If you're a runner, your dog will keep you moving as soon as he learns your routine. Be careful when it's too hot and humid though.
Stand-up paddle boarding. This is great for dogs who love the water. While you are paddling and getting fit, your dog rides on the nose. It's great for dogs of any size. Make sure your dog wears a life preserver.
Dog-friendly boot camp. Who knew? But it's a thing. These classes for people and their dogs are sprouting up more and more, "In a typical class, you'll run through high-intensity moves for strength, balance and cardio while your four-legged companion practices obedience drills," the Health.com article said.
This is especially great for herding dogs, such as border collies and Australian shepherds.
Snowshoeing and cross-country skiing. This is great when it's cold outside and you don't want you and your pup to be stuck indoors. Not only is it great for cold-weather dogs such as huskies, but other dogs love snow as well. Try snow booties.
Then Came Yoga
More people and their dogs are doing yoga. Some yoga instructors are now even teaching "doga" or yoga with dogs, according to the article, "Doga: Doing Yoga With Your Dog" at PetSafe.net.
With doga, members of a yoga class "perform yoga poses that incorporate their dogs," the article said. "While the dogs aren't doing the exact same poses as their human partners, they are either participating by performing a compatible dog-friendly pose, or are contributing by becoming an extension of the yogi's pose."
Yoga can be great for your dog, especially if he is anxious. The benefits are many and include spending time with your dog, teaching him to trust you, and both of you enjoying a sense of peacefulness.
It just goes to show, that incorporating your dog into your exercise plans makes for happy healthy dog and human.